Our Artist in Focus – meet Sumina Shrestha, Female Tattoo Artist in Nepal has been doing tattoo for about four years now. Initially starting with cartoon sketches, she experimented on finding her own style of art by trying out different styles. She loves experimenting with different types of tattoos and challenging herself by constantly trying out new styles. She dreams that many strong independent female artists would come into this field and make tattooing their passion as well.
Our artist also focuses on the importance of tattoo aftercare routine. And few things that you should know before getting a tattoo that many clients seem to not take seriously.
Sumina loves to sketch, paint, sing and tattoo. She is also a traveller and an adventure enthusiast and has also been featured on news articles and magazines numerous time.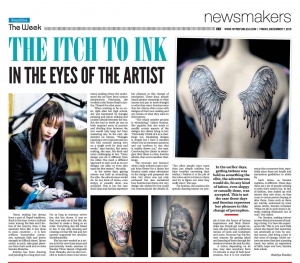 In the Nepalese Tattoo scene which is mostly comprised of men, she looks to make an impression of herself and create her own legacy.
She had also experienced running a tattoo shop in India for half a year alone where she got to learn the tattoo culture in India.
She is currently managing Wanderthirst Tattoo at Wanderthirst Hostels where she tattoos and occasionally work on paintings.
You can get in contact with her for via or website. Or Follow her on her social accounts.
Please follow and like us: